"Dungeon ni Deai wo Motomeru no wa Machigatteiru Darou ka" (aka) "Is it Wrong to Try to Pick up Girls in a Dungeon?" (aka) DanMachi Review:
So let's get the title out of the way. It's an odd choice by the English licensors. The actual translation of the Japanese title is "Is it Wrong to hope for an encounter in a dungeon?" which while accurate isn't befitting of a title and definitely a lot less cooler or at least attention-worthy. Anyway, the original title itself isn't representative of what the anime is about, which I'll get into now.
Plot:
As an adventurer living in Orario, Bell Cranel becomes the only member of Hestia Familia. Although he was very weak compared to veteran dungeon crawlers, he gained a special skill that enables him to become stronger quickly as long as his feelings towards Aiz, the Sword Princess whom he looks up to, does not change. With the help of his Goddess, Hestia and other people who cares for him, he vows to be strong enough to stand side-by-side with Aiz and protect everyone important to him.
On the outset some of you may have misconstrued that this is an isekai anime like Sword Art Online, but it's not. This a pure fantasy setting with Gods, Goddesses, adventurers, dungeons and monsters. However, the commonality with isekai anime is that the world itself functions like an MMORPG, meaning you have XP and MP and levels and those things increase as you defeat more monsters and go deeper and deeper into each floor of the dungeon. 

The strongest aspect of the anime is that it's entertaining throughout, it doesn't waste time on meaningless exposition or world-building, it gets straight into the action and the plot so you'll never get bored at the very least. The action sequences are very good, fast-paced, frenetic and pleasing to watch. As it should be, in a power-fantasy like this. The art and character designs are beautiful, and the OP and ED are decent, and the music is great.
The characters can be hit or miss. For most people, Hestia, the Goddess who takes Bell, our hero into her familia, is the best part of the show. She's energetic, expressive and outward, and damn entertaining to watch. But she's also used for quite a bit of fan-service(the typical amount you'll see in anime, maybe on the level of something like Fairy Tail). Bell, the main character is a mixed bag. He isn't an emotionless stone like Kirito, he's endearing and compassionate and wants to get better, but he always falls into the trap of being a fantasy hero, meaning he instantly goes from rookie to someone who's a bit powerful. However, most characters in the series are a lot more powerful than him so that's good. But he's also something of a chick magnet, every pretty girl in the series is in love with him, so it's strange that the series doesn't have a harem tag in myanimelist. And all the other characters are a bit under-developed, save for a couple of characters, but none of them are annoying.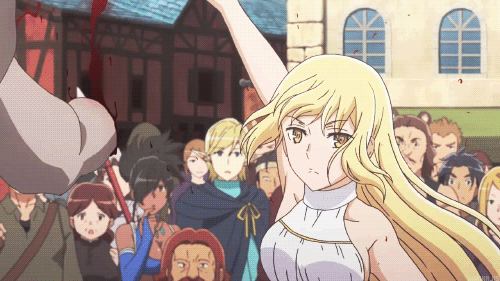 Over all, this is a very entertaining series that'll keep your attention for 13 episodes, with a good amount of action, comedy and a bit of fan-service, but the story and the characters can be a bit cliched.
Also FYI, a movie is coming in Feb 2019, and a season 2 has been confirmed. There's also a spin-off series named Sword Oratoria but I haven't watched it yet.
" Justice is subject to dispute; might is easily recognized and is not disputed. So we cannot give might to justice, because might has gainsaid justice, and has declared that it is she herself who is just. And thus, being unable to make what is just strong, we have made what is strong just."