this is not a review, because i will not be formally assessing or examining this series. i am talking about my experience with this series, how it made me feel and reflect on my life, etc. as well as a discussion on how others feel about this series or if you have similar experiences to mine with different series.
(NOTE: my ACTUAL talk about Bokura wa Minna Kawaisou and how this series made me feel starts below where the series is titled. what i will be explaining first is background into and events leading up to the main part of this thread. however, what i am talking about is in direct relation to what i will be saying about the series and how my experience fits in. you can skip this stuff if you want and scroll down to where the title of the manga is. i think this will be a good read though)
(i recommend listening to soft music while reading this, but it doesn't have to be too soft)
Introduction: 
It all began probably a little over a year ago, maybe a bit more. it started with me reading the boku no hero academia manga continuing from the end of the first season in the anime. if i'm not mistaken, i started reading my hero academia at that point about 3-6 months after the first season finished airing. it was a fantastic read. i finished all published chapters at that time within a few days, and it left me with an empty feeling inside. i believe this feeling resulted from my strong passion for reading the manga. i don't often read manga, but when i do, you can bet it's a really damn good one. anyways, i shall explain a little bit about myself in attempts to explain the origins of this feeling.
(this introduction continues after the background info below which is placed within the horizontal lines)
---
(Some Background Info)
to be blunt, i suppose i'm a very weird and unique person. most people just don't "get" me, on a fundamental level. i can be casual with people, but i suppose it's when a person starts to know the real me is when we start hitting this fundamental area. i could be wrong, i don't really get it myself. i guess this started sometime around elementary school or earlier. from middle school i noticed that i simply couldn't fit in with any group of people. the fact that i was new in the city didn't help either. i had few school friends and even fewer people that were my friends beyond school, and the main reason they were friends with me beyond school is because we lived in the same neighborhood so they also had ties to the other kids in my family. i moved again when i entered highschool and after a while there were no friends left, and even less chance of me fitting in.
i'm not explaining all of this for pity or something, i'm just trying to paint a picture. i believe this is necessary to bring this thread together. so i spent most of my time alone from the start of highschool. i had interactions and mini friendships with others throughout that time, but going into all of the little details would take too long and wouldn't really be necessary for the picture i am taking, so i will only be explaining the necessary parts.
so i met this really cute girl in grade 10 (that was when i was 15. i'm 22 now). i still remember the first time she walked into class. it was probably the first week after the school year started and she was a transfer. oh she was so damn cute. you could imagine my chances since i lacked confidence, social experience, and romantic experience. i just felt so apart from everyone else. i couldn't help but alienate myself in my own mind as well. that was pretty much my mindset at that point in time. anyways, all i could think about was how i could get an opportunity to talk with her. i felt like there was a potential connection between us. despite my mindset, i just felt like there had to be something there.
so one day the teacher had us form groups for some lame activity that i can't hope to remember. fortunately for me, this granted an opportunity. for a brief moment i was able to sit beside her before she moved to her group. i think it was me that instigated our uh, talk. i don't remember much of the conversation, but i remember clearly before she left, she complimented me in a way that i've never been complimented before. well technically i have had those words spoken to me, but not in the same way that she did. and my reaction was something i have never experienced before in my life, and a feeling i have never experienced again since that moment. it's a bit embarrassing talking about this because it's kind of stupid now, but i have a point i want to make so i'll do it.
she said that i'm cute. as soon as she said it i started to feel... odd. it's a feeling i've never been able to describe too accurately. it's like the feeling you get when you are hanging upside down and the blood is rushing to your head, but without the pain, and that feeling was around my entire body, and i also felt very tingly. i tried to say something back to her. i can't remember exactly what i said, but i remember feeling like it was difficult to talk, and i was barely able to hear myself talking because of the way i was feeling.
and that's pretty much the extent of my romantic experience, even to this day. we did get closer than that, and she often hinted that she wanted to come over to my house (yes, for "that"). unfortunately at the time it just wasn't in the cards. my brothers lived in the same house at the time and they were just so...... ugh. and they brought over their friends all the time too and their friends were even worse. there was just no way i could have any kind of romantic life at home during that time. we couldn't go to her place either. if i was just half of what i am right now back then, i bet everything would be different.
anyway, things just didn't work out between she and i. i was partly to blame too. if i understood more about myself and was more comfortable with myself, and was more socially adept, things would have worked out. at the same time, even though she was only 15, she already had "experience", in more than just one way (she told me). so there is a good chance it would not have lasted long, and even if it did, there is a good chance it would not have been fulfilling to me. i will explain what i mean when i talk about my experience with Bokura wa Minna Kawaisou.
---
(introduction continues)
nice job if you read the background info. so my point is that i believe the empty feeling that arouse in me after finishing boku no hero academia was due to the emptiness i feel in my heart. i've gotten used to being alone, and i'm actually quite comfortable with it now (i even prefer to spend most of my time alone), but i'm not antisocial. i still enjoy the thought of being around like minded individuals or other good people who aren't like minded. the empty feeling comes from the boy who felt alienated from everyone else and couldn't do anything about it. sometimes i get a glimpse of this feeling after finishing a good anime (or cartoon in rare cases), but this manga was a game changer for me. i believe the reason finishing a good manga produces this feeling is because it was an amazing escape. i was reading my hero academia and i would not only enjoy the series, but i would imagine myself being there, imagine the way i would change things and how awesome i would be, what powers i would have, etc. once the escape is gone, there is nothing left except emptiness.
if i were to describe this empty feeling. it's like a mix of negative emotions. this feeling doesn't allow me to just embrace it or let it out, because it's many different things. the physical feeling is probably like my chest is being sucked inward, or my heart is being squeezed by something i can't feel. the emotional feeling is like loneliness, sadness, anger, fatigue, etc.
anyways, i felt like this for a while and then i desperately tried to search for another escape. another manga series. i didn't know what to read because i didn't know what would be good. the way i was feeling at the time, it was like nothing would be quite as good as what had finished reading. something that could be my new escape. i don't remember exactly how it happened, but i ended up on the page of a manga called " " ... i uh... don't recommend reading it, but you can read it if you want. it's a gender bender manga. if i remember correctly it has some intimate scenes. i think i somehow ended up in a phase during that time. after reading amahara kun, i wanted more of it. for some reason i just wanted more gender bender, but i didn't know why. amahara kun didn't even make me feel better (no pun intended hahahaha).
so soon after i found a manga called " " (it's gender bender, but it's sort of family safe i guess. no sex). THIS manga was something else. it became my escape, but at the time i think it only had about 13 chapters or so. the series is complete now at about 32-34 chapters (i'm still on chapter 26 at this moment, you will understand why later). this manga made me feel ways i have never felt before. i can't remember the exact feeling, but it was a feeling that made me want to keep reading for a long time. unfortunately i came to the end of the published chapters and then i felt even worse than before. after a while i found it in me to put that manga on the back burner for a very long time until it was complete. this manga was only updated like a few times a year or so, so i knew the wait would be hell and it would be best if i temporarily forgot about it and came back years later.
i did what i did before and started searching for a new escape...
Bokura wa Minna Kawaisou:
and so it begins. i found bokura (which strangely has a few similarities to ookami. it's not gender bender though) and started reading it. it's pretty much a series about  a highschool boy who is moving into some sort of residential complex to be closer to school. he meets a girl at school and falls for her at first sight, and then it turns out she is living in the same house as him.
honestly, this manga does start off a bit slow, and a lot of the plot areas are slow, but most of it is definitely fun to read, and it was worth it. it's also very hilarious. the humor might take a bit of time to get used to, but things fall into place after a while. there's even an anime too, but the manga is so much better and the anime only covers a bit of the story. and the heroine is SOOOOOOOOOOOOOOOOO much cuter in the manga as you can see below.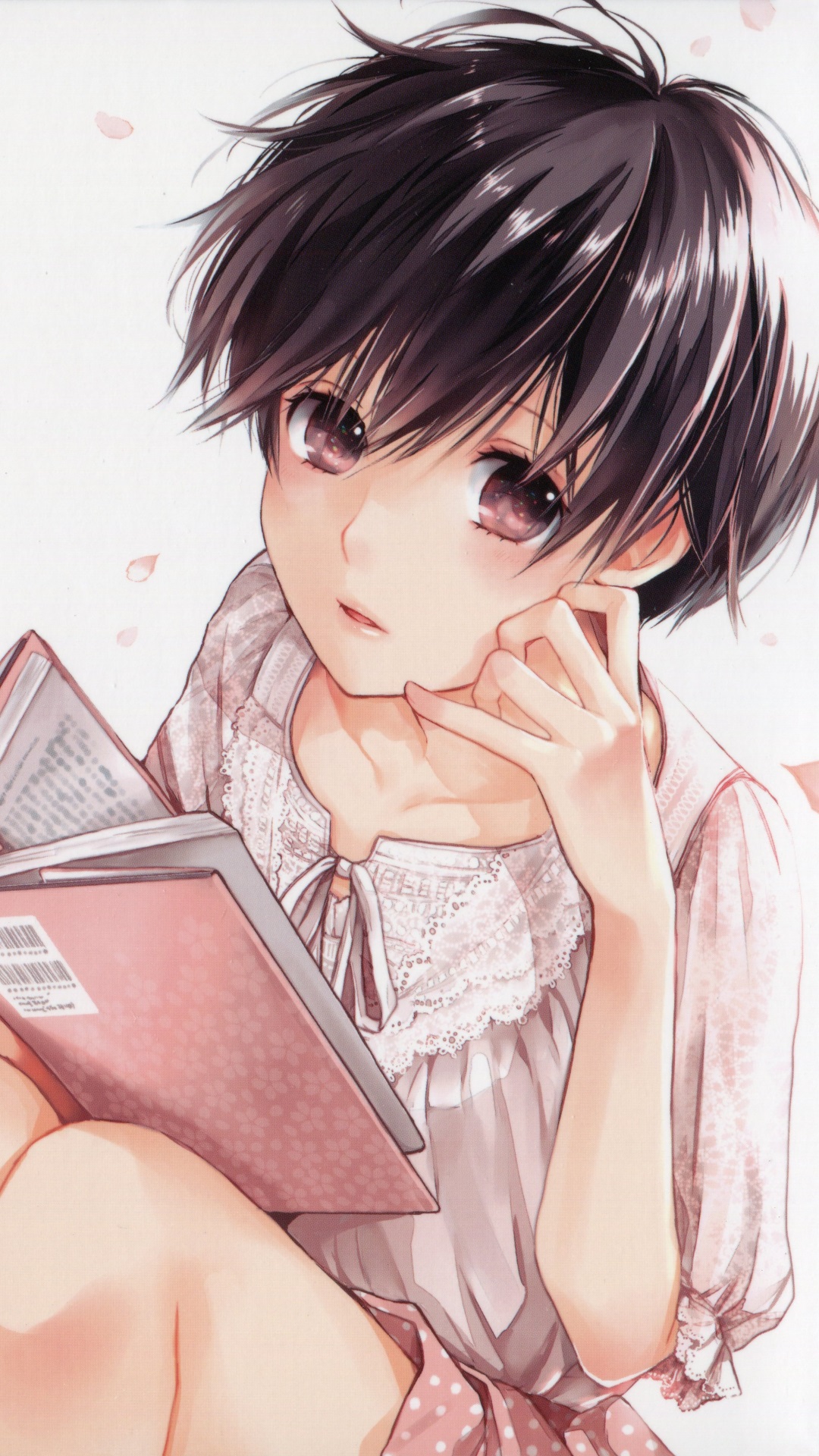 so anyways. this story was great. the way life is at the kawai complex is so fun and appealing. the personalities of the characters are so enticing and interesting. these things and more made me feel a deep attachment for this story. it pulled me in and made me feel like this was a part of me. the main character is kind of an ass at first, but you get used to him and realize he's really cool. the main heroine is kind of weird and very overestimated at first, but after a while you start to understand her, and near the end you realize that she's actually good wife material. well kinda.
so anyways, back then when i first started reading this manga, there were only 78 chapters if i'm not mistaken. that is the chapter where the main character and heroine finally become a couple. fortunately, i wasn't able to read any farther than that. if the series was complete at that time and i finished it, it might have just made me feel worse. so as you forgot or you didn't read the above area. all of this happened about 3-6 months after the first season of my hero academia anime finished airing. i'm 22 years old and the extent of my romantic experience is essentially a girl i like complimenting me.
so just about a week ago i decided to start reading bokura again, but this time i started from like chapter 60 or something to help me remember what was going on, because it has been a while. i wasn't really into it at first, so it was slow starting back up, but as soon as i reach where i was before, it was binge reading. this time it was killing me.
watching the main character and the heroine get close made me feel uncomfortable. watching them become a couple and actually start to act like a couple made me pissed off and it made my insides turn. watching them almost kiss twice, and then the ending when they decide their relationship is special and they want to move forward. it was killing me, but i didn't know why. 
i mean it was set up perfectly. the writer started to change things towards the ending. the characters were getting quality progression. some characters were even talking about and making steps towards moving out of the kawai complex. this is when it started to hit me. because the kawai complex was essentially the foundation of my escape in this anime. it is a beautiful place to live because the characters are beautiful. the kind of thing you would want to be eternal in your ideals, and a manga is essentially an expression of our imagination, which are our ideals most of the time. so when i am reading this manga and i realize the ideal is falling apart, it makes me feel it with every fiber of my being. so as a reader i am deep down thinking to myself, what will the kawai complex be like after these beautiful characters are gone forever? what will the lives of the characters be like? years from now even. it was as if a piece of me would be stuck at kawaisou when the series ends, and the memory of what once was will stay with me, but it wouldn't be the same and i know it.
the characters were even talking about it. when the main character and the heroine are talking together as a couple, the heroine talks about how she loves living at the kawai complex and it is very comfortable to her. she is scared to move on, but she is going to college and she made the decision to move out. this was essential yo their relationship because her guardian banned them from doing anything sexual while living at the kawai complex. this made it clear that their relationship would be stuck at stage 1 until one or both of them moves out, so the only path was to move forward, and leave these good times behind forever. to me as the reader, this only emphasizes the power of the unstoppable march of time, and makes me realize that even i can't escape it.
but that's not all. in the next pages we have the landlord of the kawai complex explaining that the kawai complex is only a temporary stop for people. that her life is uneventful and residents of the kawai complex are only temporary. she is not only relating herself to the kawai complex, but this is also symbolism that nothing lasts forever. good things change, and people need to accept the change and move forward. that memories are beautiful and should be cherished. she says that the time people spend at the kawai complex don't have to be important, but through their life they may remember the time they spend at the kawai complex. remembering her and the kawai complex. you see, this kills me because of what these things represent.
but that's not all. what kills me the most is watching the main character and heroine. their love for each other and their relationship. even before they became a couple. it is all so innocent and pure and beautiful, and it's something i never had the chance to experience. i know this, so then i think what if i'll never have the chance to experience this ideal love? i know that most or all things in reality aren't ideal, but this is just too beautiful. i mean think about it, where the heck am i going to find a girl close to my age (22) who is still pure like that? i mean there's one girl i can think of who MIGHT be kind of pure, but i don't know if we could give each other that kind of special connection. we might not have that kind of chemistry.
i digress. watching this couple move forward with their beautiful true love relationship hurt me on the inside. for so long i thought that i had rid myself of the capacity to care so much for these kinds of things. i thought that just having physical experiences with good looking girls would be enough (i'm still a virgin though). more than that, i thought i had become immune to emotional hurt like this. i thought that i would go down a different path and not really care about having a relationship until i'm in my 30s or something. so how can it be that now, because of some fictional work i am longing for true love like some little kid?
i could not have thought that something like this would make me realize that i want to find the perfect girl who is also pure and innocent, and take things slowly with her. our first time holding hands, our first time kissing, and other stuff. those moments don't have to be special or perfect, but they'd be memorable because of how special we are to each other. i don't expect it to be too similar to what is in the manga obviously, but just what it means to be in a true love relationship with a nice sweet girl who i can take it slow with. but i don't know if i could find that at my age. when i look around it seems most of the girls within many miles of me are all..... not pure, sweet, and innocent. and i obviously can't go for girls who are too young.
the way this manga ends symbolizes how things change, but at the same time don't change to fast or not too much. damn... it made me really reflect on my life you know. it made me feel like i need to put more effort into doing better and forging my future. i don't know, maybe some things about me will never change like how i don't fit in with most people, but at least there are things i can change. i wonder if i will find her soon.
please, feel free to discuss your thoughts and opinions on this. as well as similar experiences you may have had with the same or different manga. if it's the same manga it doesn't have to be a similar experience i guess.
(This post was last modified: 05-02-2018, 04:11 PM by kibbles.)